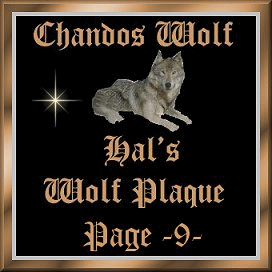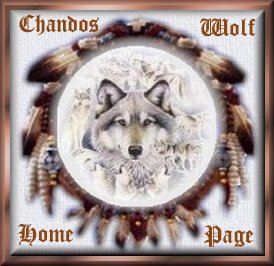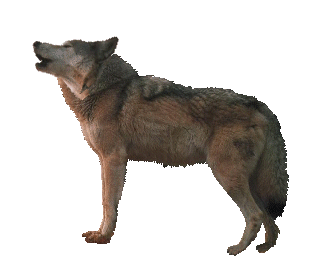 This Wolf animation was created by Hal (Chandos Wolf). Please do not take or remove from my page without my permission. Thanks.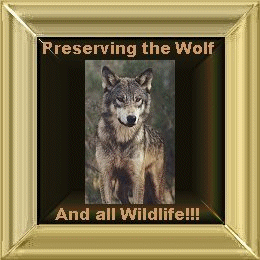 Preserving the Wolf and all wildlife from extinction, and for future generations.



"Walker-A-Rom-A-Head"
It is a business page with banners linking to all the sites that we believe in and support. I am the co-owner of this site and the wolf is my totem.

"Wolf Picture Galleries"
Wolf Picture Galleries has thumb nail galleries of photos from Monty Sloan and we have free online tools for Webtv users, plus a music search and a search all the major search engines in one location and much more.

"Gods Beautiful Animals"
I have an Animal Website dedicated to all of the endangered species, and my feelings about these beautiful animals.

"Xjivago Vom Adlercrest"
My Site is devoted to my Doberman and my Love to this wonderful breed~ I share my life with.

"Pony Girl's Rainy Day Moods"
My site is a poetry site for all ages. I do my own writing and page designs...ranging from love poems to childrens poems...I am a wolf lover and have added an additional page to my site for wolf and native american poetry....called...Song of the Wolf.

"Vargkvinnan´s Lya"
My site is about Wolves, Native Americans, poetry, and much more.

"Miss Platt's 8th grade Language Arts Class"
Ashland, Massachusetts 01752-- Ashland Middle School--The Call of the Wild page has a section on wolves which we are proud of.

"Joe & Viv's Home Page"
Home page displaying our love for the good Lord, and our love for the Wolf.

"Fala Bicho's Animal Welfare, Education and Protection"
Site of Animal Welfare and Protection Society located in Rio de Janeiro/Brazil, mostly dedicated to education about animal welfare based on the tripod: adoption - spay/neuter -responsible ownership.

"Silvia's Dream"
My site consists of poetry, family and my pets.

"Dillon's Wolf Park"
Dillon'sw Wolf park is filled with tons of wolves, information, pictures, and some graphics for visiters to take with them. Dillon is only 9 but loves wolves.

"Sprucedell Labradors"
Welcome to Sprucedell Labradors in Germnay! Our ideal is the dual-purpose labrador that excels in health and character.

"Sonja's Homepage"
My site consists of information on the Wölf, Gorillas, and Peter Maffay. And the Dian Fossey Gorilla Fund International expands commitment to Gorilla conservation.

"Chechepooh's Zoo"
Photos and info on Wolves, big cats and Native Indians. Plus have a Pet Heaven site..

"Vision FX"
Whether it's backgrouds to gifs you need it's all free! All you need free for your web page.

"Forget-Me-Not"
Hand painted pet memorials and headstones for your gone but not forgotten pet.

"Northern California Sled Dog Rescue"
We are a group in California who rescue, rehabilitate and rehome abused and abandoned sled dogs and sled dog mixes. Several members also individually work for wolf causes (as an example, the "Vallejo Four", four Arctic wolves who were confiscated from a home in Vallejo, CA. Some of us are working to raise fund to place these four in a sanctuary.)Additionally, two of us have rescued wolf hybrids and while we do not believe in making more of them, we will try to take care of those already with us.

"Kweken en grootbrengen van de huiskrekel"
My site (Dutch language) contains information abour breading and raising the housecricket Acheta Domestica, the most popular consumption insect for Herpetological carnivor animals.

"SheWolf.Geo's Den"
This is my den with wolves. I have wolf clipart, lines and bars, information, pictures, and much more.. It also includes my art.

"NC's Outer Banks: A National Historical Treasure"
This site displays the historical landmarks of North Carolina's Outer Banks through original detailed photography, poetry, and rich text.

"Likes Links"
It's a site where people can go to after work and spend time with their kids and relax and just have fun.

"Angie's Corner"
My site of poetry, angels, fairies, native american stuff and wolves.

"Winnie the Pooh's Place"
A site about WInnie the Pooh and his freinds!

"TimberCarver.Com...Home of Cherokee TimberCrafts"
Devoted to the Art and Promotion of Woodcarving and Awards.. All the Graphics were created by myself with exception to the animated graphics.

"Chris Alascio USMC Homepage"
The Marines during the Vietnam War.A Marine Kia wall with the complete names of all Marines Kia during the Vietnam War. Pow/Mia wall with all the names that uncounted for. You will find over 500 links to Marines sites and goverment site. You will be able to find just about anything on the Marines during Vietnam War.

"Welcome to ShadowWolf's Den"
A homepage of my favorite links and forums, my love of Wolves, and many wolf pictures!

"Mutington's Meadow"
Mutington's Meadow is a poetic haven set in the lush fields of wildflowers and clover. World wide poets gather here to share their talents in poetic verse and sense of community, where poetry is always in bloom.....

"Arttic Wolf"
Wolf lover site. This beauty and the beast of the Animal site, is dedicated to saving the Wolf and other Wild Creatures.

"Frickey's"
My site is a family friendly site, one page is dedicated to women and children of the world, also has missing children on it and many wolves, as well as lake and snow appletts. I love wolves and Native American Art.






*The backgrounds, banners, dividers, graphics, animations, logo's, gifts, poetry and awards, on my Home page are copyrighted and or the property of "Chandos Wolf". Please do not take or use without my written permission.

*I receive files containing pictures and graphics sent to me by friends and aquaintances, who surf the net. Should you find any graphics, pictures, or logo's which have been taken from your Home page and site without your permission, and used on my Home page and site, please contact me to either remove or link back to your site. I will honour your request. "Chandos Wolf".

[Wolf Plaque Page-1] [Wolf Plaque Page-2]
[Wolf Plaque Page-3] [Wolf Plaque Page-4]
[Wolf Plaque Page-5] [Wolf Plaque Page-6]
[Wolf Plaque Page-7] [Wolf Plaque Page-8]
[Wolf Plaque Page-9]