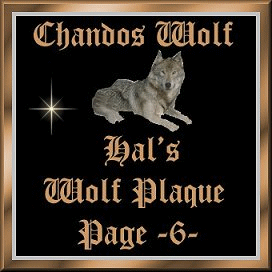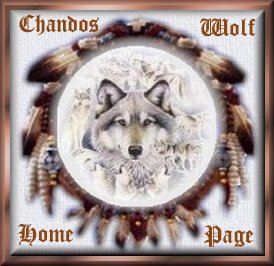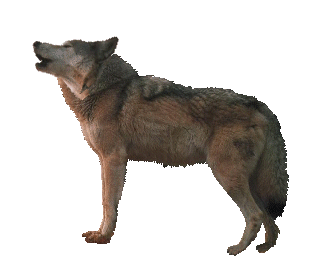 This Wolf animation was created by Hal (Chandos Wolf). Please do not take or remove from my page without my permission. Thanks.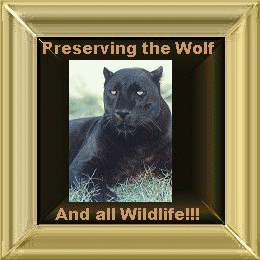 Preserving the Wolf and all wildlife from extinction, and for future generations.



"WhitePaw's Den"
It describes my origin,and background and tribute to my ancestorial grandparents,, and my love for brother wolf,, and my two babies, Shena and Shawnee.

"Heartbreaker`s"
My site shows and describes my cats who I love wery much,in the best way.

"Víctor Jesús"
Personal Home Pages, My Little History. I Love wolf's too, My Nick is Lobo and my baby Lobito.lol In México, we Participate on Mexican Wolf preservation.

"Wolf's Claw's Den"
Wolf Art, backgrounds, my Own Creations and much much more.

"Wingedwolf. Eire"
My site is about near-death/spiritual/ miracilous/healing experiences. also an explanation of how I recieved name of wingedwolf and what it means to me.

"Wind Wood Acres"
Native American, Animal Rights, Domestic Animals and Wildlife, Country Music, Wolves and Rodeo

"Brooke's Wolf Den"
Wonderful! All about wolves, plus more!!!

"La madriguera del lobo Victor Hugo"
My home is dedicated to inform people about wolves and how to help them. This site is in spanish only

"Victims of Drunk Drivers"
Dedicated to the memory of my hubby, Mike, who was needlessly killed by a drunk driver. Shares personal tragedy, graphic crash photo's, trial coverage, etc. Encourages voting in a Drunk Driving Penalties Poll.

"Phamous Philo"
Awards, Graphics, Humor, Knowledge, Magic, Philosophy, Science

"Welcome Wolf Mates"
My site is dedicated to help save our wolves.I have written poetry from my heart and put on the page also.It is a plea for the people to understand how they must feel.On my other page you will find a prayer I have created for them also. I do love them so.

"Rally Road"
Pictures and Info on Wolves. Some graphics. GTO pictures and info, animation, Family Photos, Free Stuff. Special Effects.

"Thunder's Wolf Den"
I love wolves. It has a gallery, a community, etc.

"Animals, Entertainment and More!"
My main focus is wildlife and it's preservation. You can also find a wide variety of entertaining things to explore.

"Wolf Country"
My site is dedicated to the preservance of the wolf. I am Cherokee Indian and I love wolves.

"Judy's Realm of Sunshine & Smiles"
My site consists of inspirational poetry and stories that will stir the emotions, touch the soul, and give encouragement and hope for the future. I also offer many awards in appreciation and in recognition of the creative spirit of those who bring beauty and knowledge to the internet.

"Bonnie's Neighborhood"
Family Site with causes, stories, poems, recipes, Memorial, awards, pets, adoptions, soon to come Native American and Wolf site.

"Eye's of the Wild"
Mostly a dedication site to the wolf, but i have My adopted POW/MIA, a little about me, awards ive won and more, some pages still under-construction.

"Renie's Fantasy"
It is my site about Wolves and the North American Natives. And Unicorns and Pegasus that is my fantasy.

"A tribute to the Most Beautiful Animal in the World"
Interesting information, beautiful pictures, my tribute to my all time fav. animal.

"Greywolf & Willow's Lodge"
Native American informational. Trying to stop the hate, and the destruction of Mother Earth and all her creatures. My Spirit Guide is the Great Wolf.

"Little Wolf's Lair"
A Wolf site....beautiful wolf graphics and backgrounds and music, but also with dash of tiger.

"LEHN..Lupine Educational and Habilitative Network"
Dedicated to providing information and educational resources, as well as networking existing foundations dedicated to saving and preserving the wolf.

"Save Wolves 310"
My site is dedicated to all wolves, animals, wildlife, and the people who voice for them. Includes wolf slide show by Monty Sloan, Poetry, oppinions,and tributes

"Country Crafts N Design"
Collectable teddy bears, petwear and accessories

"WiLDFILLY's Corral"
A huge site with information on endangered animals, cats, disaster preparedness, cooking & recipes, personal info & more !!

"Kennel Trophy"
My website is about my small quality breed of apricot Dwarf- & Toypoodles. Beside a lot of great stuff about my own Poodles, I have also included a lot of informations about Poodles in general. My website has an English version.

"Welkom Bij Antoinette"
My site is about my and my son. But also about the wolf and the Indian's.

"My Dedication To The Wolf"
My Site is about The Love Of Wolves in hopes to help others understand them and appreciate the beauty that they hold.

"Jennie Wren's Castle"
my site is about me, my friend and lot of other things.

"Gray Heart's Home"
My site is all about wolves, information, pictures and soon to be my feelings on the wolf.

"Dominoe's pawprints"
This is a new site about my 2 dogs,both rescues that i love dearly,and I am just starting a important causes part of it to help make people aware of animal abuse and how wrong it is.

"Lost Fantasy Stables and Animal Rescue"
I run an all breed animal rescue and also am owned by 7 hybrid wolves 3 of whom I use in wolf education through the local elementary school. I also breed and train paint horses and feel that every animal deserves a lifetime home with people who love them.

"Wolf River"
A fun wolf site with information and pictures about the real wolf. There is also many quotes of encouragment to let out your heart to the brother wolf.

"Cat's Eye"
A look into the world of a twenty-something college chick....

"Truckerclub Rülzheim e.V."
Truckerclub Rülzheim e.V.!

"Two Dogs Buffalo Jump Pages"
My pages are based on Family, Native Americans, Animals, Nature, Wildlife, and a devoted love and loyalty for all that you have just read!

"White Paw"
Experiences in tracking the wolves through the Velebit mountains in Crotia. Following the pack of wolves released back into the wild in 1992. Informations about the other wildlife in this area. Presenting video-clips and other visual and sound material as archive and extracts out of "The Diary of Paul Balenovic", continued with up to date wolf-tracking facts and news.

"Beauty Worlds: The Culture of Beauty"
All about beauty in nature and the culture of beauty in different cultures with reference to fashion, style, and man's relationship to nature.

"Forever Loved Productions"
Amazingly beautiful, award winning site. Must take time to come see!! Words just don't come close. Music of all variaties .. art work is all originally done by Marcas and myself.

"Temple of White Wolf"
Temple of White Wolf. I belive in saving all endangered anmials.

"Candy's Place"
Greetings,Jokes & Humor,Poetry,Inspirational,Wolves,Midis.....etc.

"Wolven Online"
A Dutch home page aboute the wolf

"Dream Chest"
Poetry, Art gallery, and Garden quotes.






*The backgrounds, banners, dividers, graphics, animations, logo's, gifts, poetry and awards, on my Home page are copyrighted and or the property of "Chandos Wolf". Please do not take or use without my written permission.

*I receive files containing pictures and graphics sent to me by friends and aquaintances, who surf the net. Should you find any graphics, pictures, or logo's which have been taken from your Home page and site without your permission, and used on my Home page and site, please contact me to either remove or link back to your site. I will honour your request. "Chandos Wolf".

[Wolf Plaque Page-1] [Wolf Plaque Page-2]
[Wolf Plaque Page-3] [Wolf Plaque Page-4]
[Wolf Plaque Page-5] [Wolf Plaque Page-6]
[Wolf Plaque Page-7] [Wolf Plaque Page-8]
[Wolf Plaque Page-9]