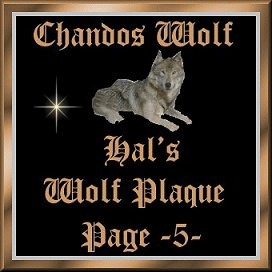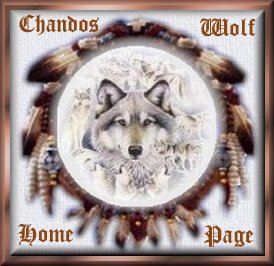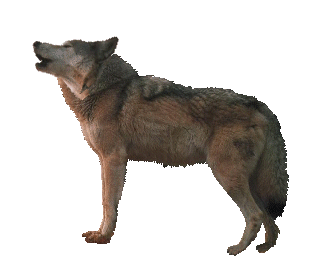 This Wolf animation was created by Hal (Chandos Wolf). Please do not take or remove from my page without my permission. Thanks.

Preserving the Wolf and all wildlife from extinction, and for future generations.



"Coming of Thunder"
Just some of my writings.

"INTO THE SHADOWS"
My site is actually of a pagan nature, but the wolf is held dearly in my heart. I am starting a page on the wolf with links to sites that support the conservation of these majestic creatures.

"Rosie's Home Page"
I'm a retired singer-songwriter here in England - my site was designed to make contact with fans all over the world who were trying to find me and my music. I have an autobiography, a Songbook (which I add to each month - I let my fans decide which songs of mine they want to have added!) and lots more about my music career, including new multimedia CDs that a friend and I are compiling of my whole musical career. I also have pages of tales about our 14 safaris in Africa (a passion of mine) -some funny and some to make you think... and two pages in a Photo Album, including our safari pics and music pics. I also have a computer chat page for useful information and a webcase-graphics showcase page which I change each month - to bring the work of fine web-artists to a larger audience. I also have a message board which I designed (messages by email - I put them up on there myself).. thank you graphics of original artwork for all messages received - and awards/gifts/membership pages.

"Pagina de Cisne"
Fantasia.

"Erich's MP3 Cafe"
MP3's, Cafe; Midi; Graphics; Downloads.

"Our Thornton Family"
Our Thornton Family" is a Genealogy site...Civil War, U. S. Presidents, Pocahontas, etc. Also Pets, Recipes and much more!

"Dogue de Bordeaux Von Haus Hestel"
My site is a dogsite about Dogue de Bordeax with photo's and information and links about Dogue de Bordeauxdog all over the world.

"Welcome To My Page"
Family Friendly and safe surf site. My family and their history of becoming new Canadians, poetry, short stories, memorials to My Angels, Life's Other Side, very Special Links, Chuckles, Treasures, grabNgo Page, win an award, webrings, awards I've rec'd, and lots more. My site is also a winner of the Jack London Ranch Albumn Award currently listed at the Jack London site.

"Krolly's Page"
A very funny austrian side for our internet- and chatter friends. The page is made for my husband (chat-nickname: graf vonkrolock).

"Stallion's Domain"
...It is mostly a comedy site with my poetry and photographs thrown in. I love to make people laugh. My page also shows my love of horses; and I too, love wolves.

"Rebecca's Dog & Wolf Page"
Information on dogs and wolves and a lot of fun too.

"Tech Man Rog"
Great Browsing to be Found on this Site. Find Drivers, Links to Crack Sites, Great Tips, Animations, Music and Loads of Links to some Great Related Sites.

"Shaggybear's Home"
My site is about a cat and 2 rotties who will tell all to who ever will listen. I have adopted a coyote and trying to adopt a wolf. The wolves are such beautiful creatures and should be let to roam as the free spitits they are. I would like to set a page up for wolves and maybe some information on the type of wolf they are.

"My Little Corner of Cyber-Space"
My page is dedicated to the beauty and wonders of The Wolf.It is important that we show the beauty of these magnificent animals so that more will see and understand and help keep them from extinction. My love for animals and seeing the beauty in the wolves,and believing that we must do something to help preserve them and keep them from becoming just a memory inspired me to make The Wolf page.

"Snow Wolf Tracks"
Personal Home Page.

"Shoot for the Moon"
Kentucky, waterfalls, friends, causes, scenic pictures, wolves, eagles, indians, awards, recipes and more.

"My Hideout"
A personal site with photos, maps, info on good camping,fishing, and hunting spots, Quotes, Poems, recipes and much more.

"JKS'S Home Page"
Links to wolves,gifs & backgrounds, poems, fantasy, holidays, and friendship.

"For The Love Of A Wolf "
Wolf restoration and preservation.

"Little Big Town, die Westernstadt in Sachsen-Anhalt"
Country and Indian arts.

"Sharon's Wolf Den"
This site is dedicated to the wolf. They are beautiful creatures that are a part of our heritage.They need our help to stop the senseless killing due to lack of knowledge. We fear what we do not know. Please help save the wolf! There is also a part of my site dedicated to my family and the ones that have passed on from this earth.I have included pictures that I have found and links to other pages of interest.

"WolfSearcher"
Wolves, wolf links to many pages, various linke to wildlife sites with some other sites.

"Cadrap's Eagle Domain "
My site is about the bald eagle. It has info and pictures concerning the bald eagle.

"See What Tomorrow Brings "
Memorial/spiritual journey.

"Kimberly's Pages"
My site is about me, saving the tigers and wolves from extinction, and wicca! My site is always under construction as I am always adding new things. I am always open to ideas, comments, or suggestions on what I can add to my site to make it even better.






*The backgrounds, banners, dividers, graphics, animations, logo's, gifts, poetry and awards, on my Home page are copyrighted and or the property of "Chandos Wolf". Please do not take or use without my written permission.

*I receive files containing pictures and graphics sent to me by friends and aquaintances, who surf the net. Should you find any graphics, pictures, or logo's which have been taken from your Home page and site without your permission, and used on my Home page and site, please contact me to either remove or link back to your site. I will honour your request. "Chandos Wolf".

[Wolf Plaque Page-1] [Wolf Plaque Page-2]
[Wolf Plaque Page-3] [Wolf Plaque Page-4]
[Wolf Plaque Page-5] [Wolf Plaque Page-6]
[Wolf Plaque Page-7] [Wolf Plaque Page-8]
[Wolf Plaque Page-9]