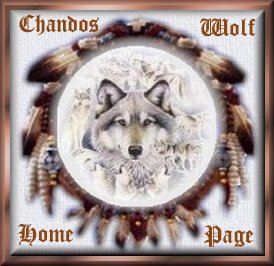 This Wolf animation was created by Hal (Chandos Wolf). Please do not take or remove my animation from my page, without my permission. Thanks.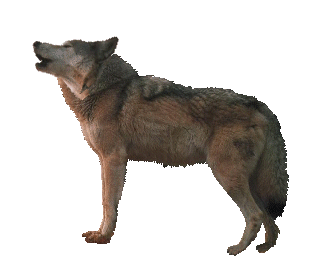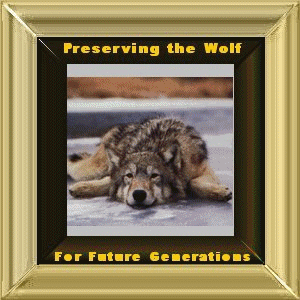 Preserving the Wolf and all wildlife from extinction, and for future generations.



"Willow Paw's Wolf Den"
My site is of course about wolves. It has gray wolf, red wolf, Ethiopian wolf, and all wolves in general fact sheets. Also photo galleries with beautiful wolf pictures, and links to other wolf websites.

"Stop the Pain and Start the Humanity"
My site deals with attempting to educate the general public, plus medical and legal community on the many problems chronic pain patients (including myself) endure on a daily basis. I have built up my site on certain aspects concerning this topic. Many of my poems and articles are included with many links on chronic conditions. I'm also proud to display my own "wolf" page and one of my poems is also on that page dedicated to them and those who live in pain. I also created a new "humane" award with a picture from Wolf Park as I link many pictures to their site.

"Wolfrunnings Lodge"
Educational NA site helping others find different tribes. Stories and Writings.

"Pat's Little Corner of the World"
It's mainly about my country, New Zealand, and its Pacific Island neighbours. Also links to Native American culture. Thank you for your time! Pat

""599 Howling Wolf Lane"--A Den for Louve"
Please visit my site honoring the wolf. Through learning more about the wolf, as well as a very moving experience with a particular wolf, I have learned more about myself. My site includes a 'tribute' to the wolf, original wolf poetry, wolf conservation sites, a tribute to "Animal Medicine"- with emphasis on the wolf. There are many wolf graphics and quotes on this site, as well.

"Lady's Den"
My site is about my family, friends, and my love for the Wolf

"Stand for Something"
Aloha!! I would be most honored to display your beautiful plaque on my site, with a link to yours. I have a forum (message board/chat room) called Stand for Something, we are a diverse group of people, who are trying to do their part to create a better world. The preservation of the wolf and the enviroment are big on my list. With much Aloha and Mahalo's, Noel Cielo

"Wolfgirl's Den"
It is about me, the wolf, my crocheting, and my dog Lobo

"Golden Eyes"
It has information on tigers, wolves and eagles. Each category includes pictures, general information and a gallery (it's just starting to grow).

"Lisle's Den"
Family, earth and wildlife pages.

"Threatened Animal Species of Extinction in Portugal"
Is the only devoted site for threatened animal species of extinction in Portugal. Please see the Iberian Wolf Section.

"Rebecca Wolf Wolf's Den"
My site is about one of the rarest and most magnificent animals on earth-The gray wolf.

"Wolfiey's Den"
Information about wolves to share with everyone! Includes Pictures, Facts, Links, and a live wolf webcam!

"Bioethical and Societal Issues"
BASI is a forum for discussing topics related to bioethics, sustainability, conservation, the environment, community, society and governance. It is a place to present thoughts and ideas, and to pursue solutions to the troubles that plague our culture and our planet.

"LadyWolf3787's Page"
A site with wolves, Native Americans and other of my favorite things.

"Ceri's Butterfly Home Page"
A site to promote our butterflies and moths of the UK. All photo's are of living insects in the wild.

"Wolves and Other Things I Love"
Though I venture off into other things, my sight is dedicated to the wolf. I plan on adding more to it, and getting a little more creative as I learn the different codes.

"Katsassy's RSD/CRPS Help"
Louve's page referred me here. I am part Chippewa Indian and the oneness with the wolf is unlike no other. The travasties that the animals have endured outside the natural realm of Gods intentions is undescribeable! May God Bless!!!!!!!!!(((Hugs)))) ...............Kat................

"My Little Space in the Cyber World"
There is not to much there. I just created it. Just a small homepage to tell the world a little about myself. Peace, Raven

"Natural Developments"
My site, Natural Developments, is a showcase for my wildlife photographs. My site also caters to environmentally friendly vendors and discusses topics current to the outdoors. It is my gift to others, to share the beauty and wonder that I see in the natural world. I hope you enjoy. Take care. MH.

"Wharfy's Home"
My site has a little about myself and the family, however I have a growing library of wolf pics, backgrounds and sound files.

"Castles In the Sky"
Recipes, cakes, photos, family pic's, Wolf, whales, The Site Fights, it's just a personal site. With alot of work...

"Majestic Wolf's Den"
My site is dedicated to the ellusive and fascinating wolf. My page contains many graphics and facts for all to enjoy!!

"Old Man of Fairy Wood"
This is the new opening page to my fight page for the site fights. Old Man Of Fairy Wood is a tale. There is much more to come.

"All About Samm"
Has lots of info on BSB, animals, music, books, and more.






*The backgrounds, banners, dividers, graphics, animations, logo's, gifts, poetry and awards, on my Home page are copyrighted and or the property of "Chandos Wolf". Please do not take or use without my written permission.

*I receive files containing pictures and graphics sent to me by friends and aquaintances, who surf the net. Should you find any graphics, pictures, or logo's which have been taken from your Home page and site without your permission, and used on my Home page and site, please contact me to either remove or link back to your site. I will honour your request. "Chandos Wolf".

[Wolf Plaque Page-1] [Wolf Plaque Page-2]
[Wolf Plaque Page-3] [Wolf Plaque Page-4]
[Wolf Plaque Page-5] [Wolf Plaque Page-6]
[Wolf Plaque Page-7] [Wolf Plaque Page-8]
[Wolf Plaque Page-9]