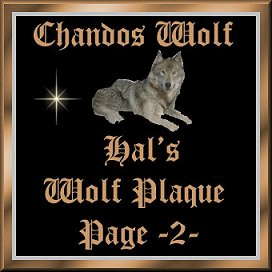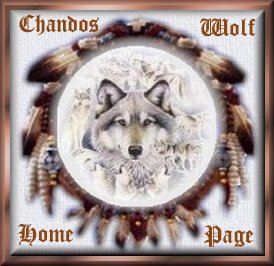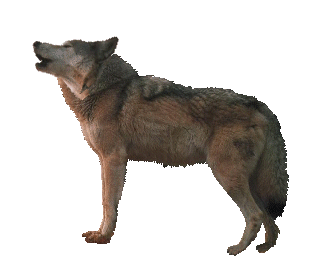 This Wolf animation was created by Hal (Chandos Wolf). Please do not take or remove my animation from my page, without my permission. Thanks.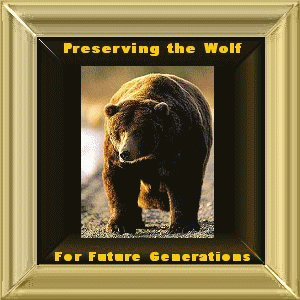 Preserving the Wolf and all wildlife from extinction, and for future generations.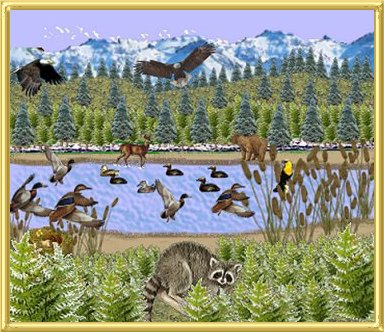 This wildlife picture was created by my Brother Jack, " (Niteowl's Place) "



"Niteowl's Place"
Large site dedicated to Family and Friends and for the preservation of Owls and Music. Owl pictures and information plus much more.

"Angelene's Life"
Site dedicated to Family, Friends, Autism,Dedication pages, Poetry and more.

"Sorceress' Realm"
Site dedicated to Family, Friends, Poetry, New Zealand information, and much more.

"The French Natural"
Brigitte's site which brings you through a journey of the senses, through its wide variety of items, a journey of the heart with its poetic expression and of the soul for the topics surveyed... a site to visit.....

"IAS & Manjushri Mandala"
Hi Chando, beautiful plaque you made! Our realm: New Age Spirituality, Tibetan Buddhism, Tibetan Art, Philosophy, Astrology, Research, Inspiration, Ireland... Love and rainbows from Ireland, Hans & Thomas

"Dobermann's Forever"
A personal Homepage about the Doberman Pinscher, stats on Champion Doberman's, Family, and much more.

"Wolf World"
Info on the wolves, links to other wolf related sites, pictures of the adult wolves and wolf cubs.

"Black Russian Terrier"
A personal Homepage about the Black Russian Terrier breed, Family, and much more.

"Ice Dream's Picture Palace"
My site contains desktop pictures,Custom made awards, ICQ skins, web buttons, web themes and animated gifs I have made myself and much more.It's a safe site for kids, teens and adults.

"Otakou New Zealand Online"
Covers promotion of the Otakou (Otago) Peninusla, New Zealand and New Zealand Wildlife plus promotes Wildlife Conservation and Preservation.

"Angel's Home Page"
Angel's Home Page

"The Jaspers Family in Australia"
My Family Pages are dedicated to my wife, children, grandchildren and greatgrandchild. There is also a Family Tree and Photo-album, links to other websites and some award pages.

"Memory Lane Collies"
A Home page and site dedicated to the smooth Collie breed, stories about the family pet Collies,page of honour, links page, award pages, and much more.

"Wolf Whispers"
Learn about the wolf with photo's, poems, information, current news. Learn about his fight to survive.

"Rossweisl Wolf's Den"
Web site with my drawings and writings, and soon to be a page for wolves,and animal totems, Indian storys and legends.

"Gipseegal's Camp"
A fantasy spiritual journey through mystical realms.

"Akitabeck's Home Page"
A site about Akita dogs and petcare in general.

"Rebeckah's Home Page"
This is my place on the net to express myself freely for myself and the world.

"Ween's Home Page"
My place on the web for collecting my hopes, dreams and feelings...

"Maire Kaye's Home Place for all Creatures Great & Small"
It's for ALL. I have a page for endangered animals; one against animal abuse; for missing kids, a survivors page; My MIA... I'd like to PROUDLY display your plaque on the page for endangered animals, wolves are involved there.

"Mountman's Home Page"
Mountman's home on the web. Here you will find all things of interest to Mountman. I am a Gay Male that is proud of who he is.

"Welcome to Sky & Wolfer's Family Outdoors Website"
Website dedicated to Family, Friends, Hunting and Trapping bio's, Trapping photos and information, Beaver trapping and information, Heritage days, and Association Links.

"Dream Catcher"
The story of the Dream Catcher and the Wolf within, thank you, Pam.

"Selkywolf's Den"
An eclectic collection of information regarding Brother Wolf and Native Americans with links. Enter my den to discover the plight of Brother Wolf and what we can do to save this noble creature.

"Denton Lund Fine Art"
An online gallery of fine art oil paintings featuring Western, Native American, wildlife, and visionary themes.






*The backgrounds, banners, dividers, graphics, animations, logo's, gifts, poetry, and awards, on my Home page are copyrighted and or the property of "Chandos Wolf". Please do not take or use without my written permission.

*I receive files containing pictures and graphics sent to me by friends and aquaintances, who surf the net. Should you find any graphics, pictures, or logo's which have been taken from your Home page and site without your permission, and used on my Home page and site, please contact me to either remove or link back to your site. I will honour your request. "Chandos Wolf".

[Wolf Plaque Page-1] [Wolf Plaque Page-2]
[Wolf Plaque Page-3] [Wolf Plaque Page-4]
[Wolf Plaque Page-5] [Wolf Plaque Page-6]
[Wolf Plaque Page-7] [Wolf Plaque Page-8]
[Wolf Plaque Page-9]