The beautiful poetry on this page was sent to me by a very "Special" friend, ~Cathy~
(Please visit ~Cathy's~ Home Page)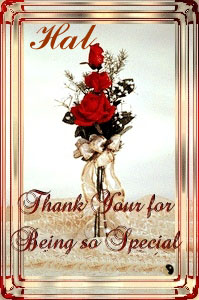 ~Cathy~ Thank you so much from the bottom of my heart for this beautiful gift. And "Ditto", Kiddo.

~Eternal Friendship~
Have you ever found a friend that just touches you deep inside
You feel a special bond that you simply cannot hide
You give them a piece of your heart, a view of what you are
Sometimes they live close to you, sometimes they live too far.

It really doesn't matter, you were friends from the start
Soon you realize their memory is a piece of your heart
You feel like they're an angel, placed here just for you
You are always amazed at the sweet things that they do

You don't have to see them or talk to them every day
To know that God has sent them in His own special way
How else could you explain, this friendship and deep love
It must be an angel, sent from heaven above.

How can you love someone you've never really seen
The question you may ask, Is this just a dream?
Soon you realize, your feelings are quite sincere
Your friendship will continue year after year.

Funny when you talk you both seem to disagree
I think you're the angel and you think it is me
When you really look at it, you have to smile and say
The touching of our souls has taken place again today.

Tonight as I said my prayers, I prayed for my friend
I could not hardly wait until we talked once again
For God showed me the answer, it was really quite simple
A soul never sees a face, it would not recognize a dimple.

The feeling of love one feels for another friend
The feeling of wanting to be with each other again
Is the inner joy, that God places there
The love one feels on top of heaven's stairs.

So if you are lucky and you have found such a friend
Remember it is God, who lives deep within
It is God's wishes, to one day look to see
Angels Hugging Angels, perhaps it's you and me.
Love you, ~Cathy~ (Angel Huggies)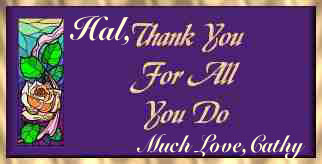 ~Cathy~: Thank you, for the beautiful gift, and for just being "You".

~An Angel In Your Pocket~
I am a tiny angel...
I'm smaller than your thumb;
I live in people's pockets,
That's where I have my fun.
I don't suppose you've seen me,
I'm too tiny to detect;
Though I'm with you all the time,
I doubt we've ever met.
Before I was an Angel...
I was a fairy in a flower;
God, Himself, hand-picked me,
And gave me Angel power.
Now God has many Angels
That He trains in Angel pools;
We become His eyes, and ears, and hands..
We become His special tools.
And because God is so busy,
With way too much to do;
He said that my assignment
Is to keep close watch on you.
When he tucked me in your pocket,
He blessed you with Angel care;
Then told me never to leave you,
And I vowed always to be there.

~By V. Ellis ©1999 ~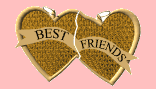 TO ~CATHY~ MY ETERNAL FRIEND
I knew from the first day I received and opened your very first mail
That we would become very close and the best of friends without fail.
Although I've never heard your voice, witnessed your smile, or even seen your face
Every word you write in your messages and mail always shows me your inner grace.

I look forward each day to hearing from you and sharing with you a smile
And I love discussing with you anything new, and teasing each other with style
. Your gifts, mail, cards and poems are such a pleasure to recieve
And then before I know it, our time is up and you have to leave.

I enjoy our early morning talks we have over a cup of tea
Especially with each of us living on the other side of the sea.
The minutes and hours spent with you just quickly fly by
And before I know it the sun is up and shining in the sky.

The good Lord blessed us when we called each other friend
And as an angel in our pocket to each other he did send.
He knew we would watch over each other from day to day
And as very close and the best of friends we will always stay.

Each day I bid you good morning and then sweet dreams for the nite
I pray for the good Lord to watch over you as you turn out your lite.
Asking that you may have a good and safe day and always wear a smile
Knowing he is looking down and watching over you in his gracious style.

You are my very "Special" friend and angel and I am so thankful that you are
The gifted and loving person within you shines through like the brightest evening star.
Whether we are ever meant to meet face to face or not, the good Lord will show us in time
Until that day, we can always share our lives, laughs and sorrows together here through rhyme.

So, my Dear, I bid you adieux, until we get to talk again which I hope is very soon
May your every day be filled with peace and happiness and may you smile and hum a tune.
Thank you Lord for smiling down and blessing me with such a wonderful and beautiful friend
I promise to keep watch over her and to you Cathy, all my love in friendship I will always send.

Hal to ~Cathy~
Copyright Hal Witt..17 April, 2000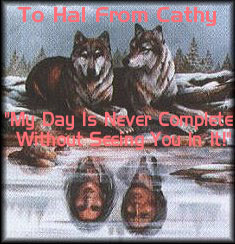 ~Cathy~ my good friend: "Ditto"
And thank you so much for this very beautiful gift.








*The backgrounds, banners, dividers, graphics, animations, logo's, gifts, poetry and awards, on my Home page are copyrighted and or the property of "Chandos Wolf". Please do not take or use without my written permission.

*I receive files containing pictures and graphics sent to me by friends and aquaintances, who surf the net. Should you find any graphics, pictures, or logo's which have been taken from your Home page and site without your permission, and used on my Home page and site, please contact me to either remove or link back to your site. I will honour your request. "Chandos Wolf".

[Poetry Page-1] [Poetry Page-2] [Poetry Page-3]
[Poetry Page-4] [Poetry Page-5] [Poetry Page-6]
[Poetry Page-7] [Poetry Page-8] [Poetry Page-9]
[Poetry Page-10] [Poetry Page-11] [Poetry Page-12]
[Poetry Page-13]