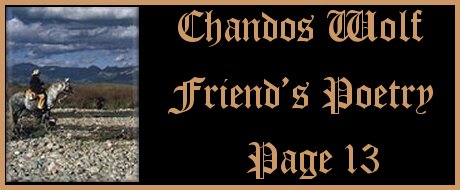 I hope you enjoy this touching poetry by my new found friend "Michael Anderson"

~ Utopia ~
Sunrise on the desert.
Golden sands, a red- orange sky.
A shadow cast in darkness-
On the winds subtle cry.
Crossing a painted picture,
A seemingly endless cage.
Facing another day alone,
The cowboy turns the page
He rides towards the horizon,

Where each night the sunsets hide.
Black Stetson hat, callused hands,
On the white horse he calls Pride.
A face rough and unshaven,
Kabar knife, boots and Levi's.
Never a smile, never a frown,
Just wild, blue staring eyes,

And the desert winds blow harsh,
Dust kicking up in his sight.
But steady on his march,
The man presses on through the plight.
Perseverance leads the way,
On the lonely, sometimes dreadful quest.
Indeed a good man some would say,
But I'd say he's the best.

And the dream seems within reach now,
The tiresome journey nearing its end.
He can see it in the distance,
As the storm seems to suspend.
A land where emotions flourish-
In grandiose euphoria.
A land where pain eases and hearts nourish,
A land he calls "Utopia".

Yes determination, will, and guts,
His three best friends behooved-
Have led him to the crossroads-
Where nothing remains to be proved.
The desert lies behind him,
Prosperity just ahead on the plain.
He slows up just a moment,
Gently pulling back the reign.

Tipping his hat without looking back-
To those he touched on this parade.
He holds his head high, lets out a sigh,
Watching a brilliant sunset fade.
And night comes on the wings of angels,
Calling a billion stars to his side.
Carrying him away to his "Utopia",
The cowboy's final ride.
Written and Copyright by Michael Anderson...1999


~ Please, Dad ~
As soft winds sweep away the days
I look back on life through a haze.
Remember playgrounds, parks and friends,
In childlike gaze that never ends.
The laughter in a game of catch,
Shall memory ever attach...
To innocence in youthful eyes,
Catching the ball to Dad's surprise.

I recall my first bike, first wreck,
Who picked me up, said, "What the heck?"
Convinced me to give one more try,
While, knees skinned, I forgot to cry.
Just the joy knowing he was there,
Making him proud my only care.
There was nothing I couldn't do,
My heart held fast that to be true.

Though teenage years were kind of rough,
I sure wasn't too big or tough.
You taught me to defend what's right
And never back down from a fight.
So I learned the hard way to stand,
Still, with each lump, I found your hand.
Drawing from you an inner strength,
And stubborn pride of equal length.

But there the line of fate was drawn,
As though I blinked and you were gone.
I found myself facing the sun,
Not man, not boy, fatherless, one.
Eyes blinded by a void inside,
I could not live that you had died.
Alas finding it to be true,
I could do nothing without you.

Please, Dad, today just hear my call,
I'm sorry that I dropped the ball.
My life is wrecked, my knees are skinned,
My emotions undisciplined.
I can't get up although I try,
Please don't be upset if I cry.
Though I can't fight what I can't see,
Please, Dad, say you're still proud of me.
Written and copyright by Michael Anderson...2000







*The backgrounds, banners, dividers, graphics, animations, logo's, gifts, poetry and awards, on my Home page are copyrighted and or the property of "Chandos Wolf". Please do not take or use without my written permission.

Western background and graphic used in my banner created by tana at 2Lazy2.
Please visit this wonderful site.


*I receive files containing pictures and graphics sent to me by friends and aquaintances, who surf the net. Should you find any graphics, pictures, or logo's which have been taken from your Home page and site without your permission, and used on my Home page and site, please contact me to either remove or link back to your site. I will honour your request. "Chandos Wolf".

[Poetry Page-1] [Poetry Page-2] [Poetry Page-3]
[Poetry Page-4] [Poetry Page-5] [Poetry Page-6]
[Poetry Page-7] [Poetry Page-8] [Poetry Page-9]
[Poetry Page-10] [Poetry Page-11] [Poetry Page-12]
[Poetry Page-13]