Chandos Wolf's
Friends Poetry
Page -1-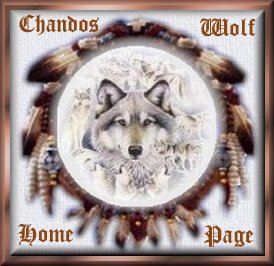 Some very wonderful Friend's have sent me some of their poetry specially for my Home page and site. I therefore, decided to create this page to display any poetry or quotes my friend's send to me. I hope you enjoy reading them as much as I do.
If you should have any poetry or quotes you would like to see placed on this page, please send them to me, and I will display them here for you. Then others can enjoy reading them as well as yourself.

A WOLF'S STORY
SO FEW YEARS OF HISTORY
WITH SO MANY WILD STORYS

A CREATURE OF SO MUCH MYSTERY

WITH ALL THE LEGENDS TO SEE

A VERY FEARED KINDA FELLOW

FOR ANY THAT'S CLOSE TO HIS HOLLOW

FOR MILES YOU CAN HEAR HIS LONESOME HOWL

HE'S ONLY SEEN BY HIS CATCH OF A FOWL

WHEN YOUR EYES FIND HIS SIGHT

IT SHINES LIKE FIRE IN THE NITE

THE COLOURS OF HIS COAT HE WEAR'S

IS SO OFTEN SEEN AS SOMEKIND OF PAIR

WHEN SEEN SWIFTLY THROUGH A ROLL OF TREES

IT'S HIS WAY OF HIDING TO HIS PLEASE

HE'S SO VERY SWIFT IN HIS SWAY

HE CAN QUICKLY FIND HIS WAY

CRAWLING FROM EACH AND EVERY SPOT

PLANING OUT HIS SINISTER PLOT

AS TO HOW HE'LL CATCH HIS NEXT PREY

FOR HE'LL PICK A SPOT TO LAY

WITH NO SOUNDS HE'LL MAKE

UNTIL IN TIME HE CAN SNATCH HIS TAKE

THIS THE WAY OF THE CREATURE THAT'S SO SLY

THE LEGEND OF THE CREATURE FEARED BY THE SKY

By MALINDA CROOK (1998)


THE CLOUD OVER HEAD LIES
WITH ALL THE LIGHT IN THE SKY

WILL IT EVER FINALLY DIE.

IF ONLY SOMEONE WOULD APPEAR

TO SWEEP AWAY ALL MY FEARS

OF THE STORM DRAWING NEAR

TO CLEAR ALL THE DARKNESS

AND BRING BACK THE HAPPINESS

WE SP OFTEN FORGET EACH DAY

WHEN WE ARE DOING THINGS OUR WAY

IS IT A REMINDER FROM ABOVE

JUST LIKE THE BIRD CALLED A DOVE

SO WE WON'T FORGET THE SORROW

THAT HE SO OFTEN BORROWS

SO WE MIGHT HAVE A TOMORROW

SO MAYBE IT IS RIGHT

FOR HIM TO SHINE HIS LIGHT

SO WE DON'T FORGET

WHERE HE SO OFTEN SET

IN THIS WORLD OF OUR'S

SO WHEN WE SET FOR HOURS

WISHING FOR THE SOUNDS TO FADE

WE'LL REMEMBER JUST WHERE THEY WERE MADE

By MALINDA CROOK (1998)









*The backgrounds, banners, dividers, graphics, animations, logo's, gifts, poetry and awards, on my Home page are copyrighted and or the property of "Chandos Wolf". Please do not take or use without my written permission.

*I receive files containing pictures and graphics sent to me by friends and aquaintances, who surf the net. Should you find any graphics, pictures, or logo's which have been taken from your Home page and site without your permission, and used on my Home page and site, please contact me to either remove or link back to your site. I will honour your request. "Chandos Wolf".

[Poetry Page-1] [Poetry Page-2] [Poetry Page-3]
[Poetry Page-4] [Poetry Page-5] [Poetry Page-6]
[Poetry Page-7] [Poetry Page-8] [Poetry Page-9]
[Poetry Page-10] [Poetry Page-11] [Poetry Page-12]
[Poetry Page-13]